STUDIOGO
Introduction
StudioGo is a peer-to-peer location scouter, designed to fit the wide range of needs creative professionals have.
SOLUTION
The Solution gives creatives a platform to share their creative insights through a peer-led community, providing all users with a variety of locations to suit their creative needs.
MY ROLE
StudioGo is a thesis project created by Christian Bebis & Jack Hopkins. I am in charge of the overall design, user research & development of the product.
Elevator Pitch
StudioGo puts the power into the hands of the user by offering a peer-to-peer location scouting community. It provides feedback, ratings, and an opportunity to speak with other industry members that have been there before. Creativity is not one size fits all, and StudioGo allows creative to find the space curated to their craft. So find your spot, and ready, set, GO!
Included in STUDIOGO Portfolio
UI Design, Mood Board, User Persona, DMZ Sandbox Pitch, Website, Social Posts (Video, Photo, Graphics)
PORTFOLIO ITEM #2: MOODBOARD
Moodboard includes StudioGo's Logo, Colour Palette, Fonts, In-application Icons, Keywords, Photographs & Logo Variations.
PORTFOLIO ITEM #3: StudioGo photographs
Photographs shot for social marketing purposes. Created, shot & edited by myself.
PORTFOLIO ITEM #4: PITCH DECK FOR STUDIOGO
Below is the StudioGo Pitch deck which was used for Ryerson's Sandbox Grant in conjunction with my Masters of Digital Media program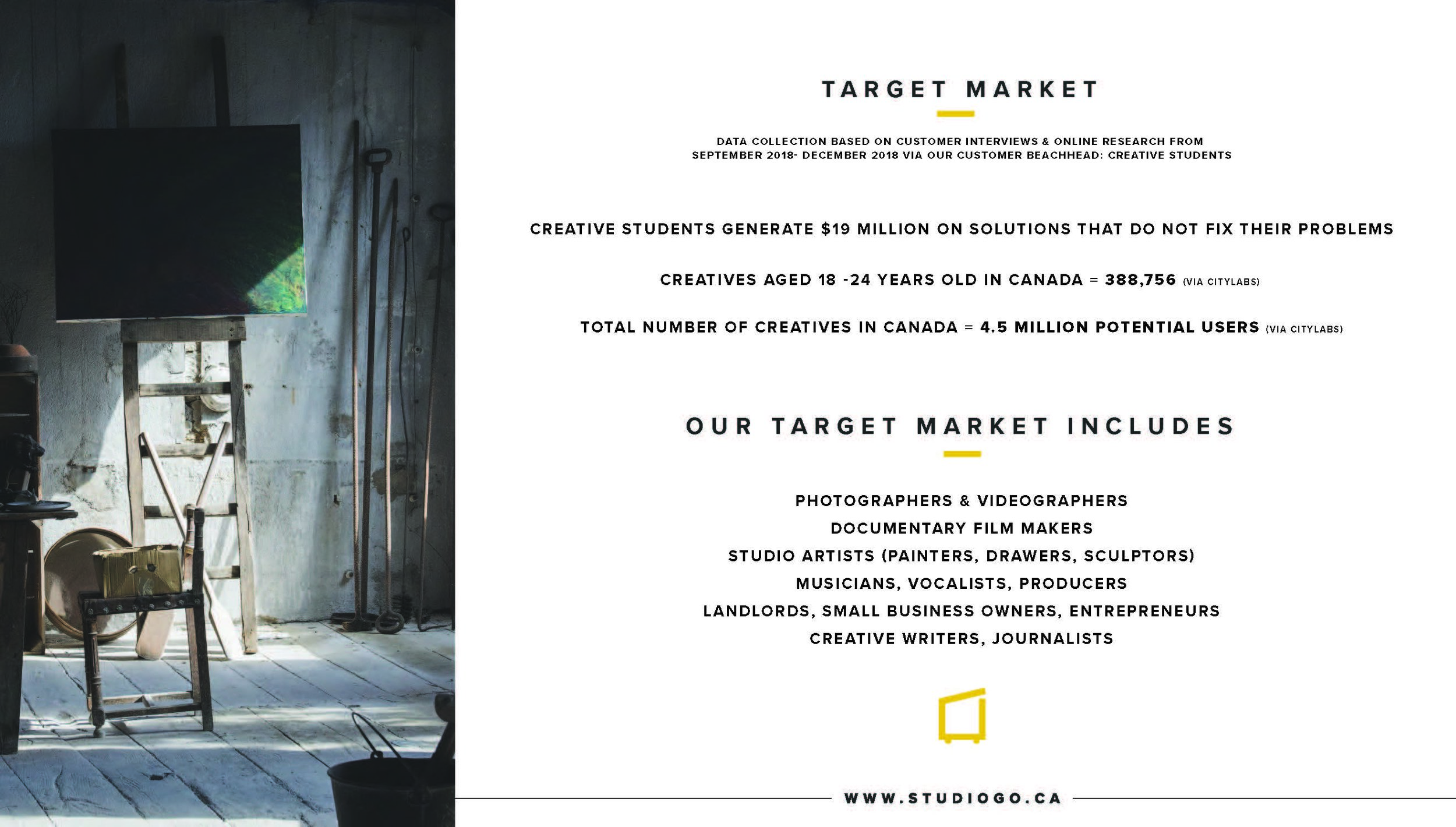 PORTFOLIO ITEM #5: STUDIOGO WEBSITE
Please follow this link, which will lead you to the pre-launch landing page for StudioGo: www.studiogo.ca
PORTFOLIO ITEM #6: STUDIOGO Instagram Story promotional items
Various videos used to promote the pre-launch of the application. These videos are featured in Instagram stories and highlights.
PORTFOLIO ITEM #7: STUDIOGO ARTIST FEATURE DESIGNS
Designs for StudioGo's "Artist Feature" promotion which gives local Toronto artists the opportunity to share their work to a greater online audience, while also promoting the StudioGo application.
Artist Feature Promotional Motion Graphic
Alexandre Henri's - Autumn & It's Mysteries for Artist Features. Motion Graphics & Video created by: Christian Bebis